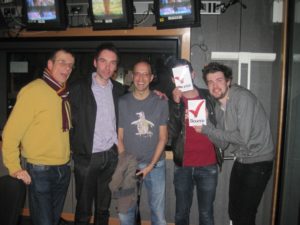 So, my trip to Berlin was superb but it was time to get stuck in to work on my return. Firstly, I had the pleasure to be in the company of comedian Jack Whitehall, The Times journalist and author Mathew Syed and actor and broadcaster Tom Watt for Saturday's Fighting Talk on BBC 5Live. It was as ever much fun and I even saw fit to make up a limerick live on air at one point. You can listen to the show here.
Next up is the football preview show Scoreboard I have started to film for Facebook. It's Facebook's first ever live football show airing at 1pm UK time every Friday and along with pundits and ex pros Scott Minto and Jason Cundy we go through the forthcoming weekends Premier League fixtures to see if the professionals can correctly predict the results and do better than the general public. There's a fair bit of humour thrown in as well I'm glad to say. You can see the latest show here by clicking on 'Watch The Show'. If you haven't got the app yet it's well worth doing so here.
Finally, I popped in to the Iain Lee Show on Absolute Radio to talk about just about anything really. We went off on many tangents, played music and made each other and hopefully the listeners laugh. I was also given the opportunity to give a 'shout out' to the excellent comedian and fellow Pictish Trail fan Josie Long. You can listen to it here.